Upcoming Speaking & Signing Events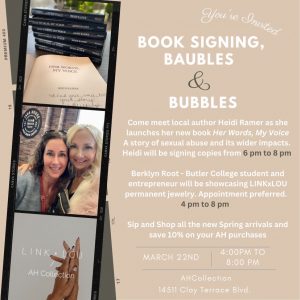 My first public book signing is approaching soon! I am thrilled to take my story on the road and engage in all the conversations that are brewing! If this one is not convenient for you, below is a schedule of what I have confirmed so far. Some are just signings which will allow for a little one on one and others will be more presentation orientated with some Q&A, group discussion or reception/meet and greet time. Take you pick on location and content. I am also happy to entertain future dates for similar engagements or deeper discussions! Please feel free to reach out personally to heidi@herwordsmyvoice.com!
April 6 – Albion Rotary Club ~ 12:00 PM Albion Pizza Depot ~ Presentation and Q&A discussion
April 20 – Manchester University ~ 7:00 PM Petersime Chapel ~ Presentation and Q&A discussion
April 22 ~ North Manchester Public Library ~ 2:00 PM ~ Presentation and Q&A discussion
May 12 ~ Kendallville Community Learning Center ~ 5:30-8:00 PM Auditorium/Reception Room ~ Presentation, Q&A, Reception with light food and beverages
May 25 – South Whitley Community Public Library – 5:30-7:00 Presentation and Q&A
June 8 ~ Sylvan Cellars, Rome City, IN ~ An evening discussion on the patio, time TBD
More events are in the works for Kendallville, Fort Wayne, Auburn and Indy. Stay tuned to my Facebook for updates as well!